36.
Hives
"Hate To Say I Told You So"
Because I wanna. Because I'm gonna.
37.
Bowling For Soup
"1985"
I wish Fountains Of Wayne would drop the ironic distance. I wish Blink-182 knew how to write about adults with the same cruel detail they do teens. Cuz I could use more songs like this one.
38.
Big & Rich
"Save A Horse (Ride A Cowboy)"
It's the "Loser" of the oughties (which means they bother saying something)! I guess that whole "worse government means better music" thing is true after all.
39.
Mirah
"Cold Cold Water"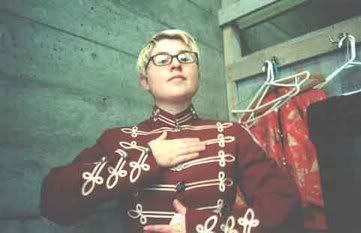 This is what I thought Lee Hazlewood productions would sound like after I read
The Unknown Legends Of Rock'n'Roll
. They might, actually! I only know "These Boots Are Made For Walkin'." I don't get how Phil Elvrum can record this and bother creating most of the Microphones tracks I've heard. Wouldn't you get bored? Embarassed?
40.
Interpol
"PDA"
Crypto-sexual college rock performed with unprecedented authority. Christgau was right: "at a critical moment in consciousness they exemplify and counsel disengagement, self-seeking, a luxurious cynicism." It's too late for me. Save yourself.