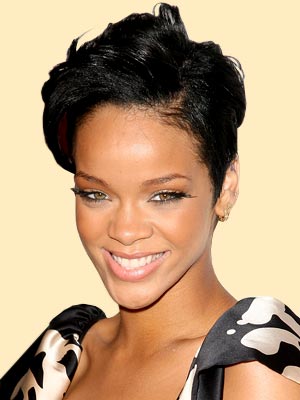 Your mind is in disturbia: it's like the darkness is the light.
Songs new to the Billboard Top 50 singles chart that aren't from
Camp Rock
(we'll see what's still around from that cultural landmark next week).
#10 (from #70): Miley Cyrus, "7 Things"
The "but I love you anyway!" twist initially made me miss the mercilessness of Avril Lavigne, but Cyrus' lyrics are more colorful and schizy than the old pro's (if not up to "my best friend Leslie said 'Oh, she's just being Miley'"), and musically she gets more out of a similar mix of country vocals and studio punk-pop. Seeing as how this shot above anything from
Camp Rock
, she may actually be breaking out of the Disney ghetto. Eep.
#18 (debut): Rihanna, "Disturbia"
Had Chris Brown written this paranoid club jam for the second biggest Shia LeBouf film of 2007, I might have gotten into the song as some 21st century Ray Parker Jr. As re-release filler for Rihanna in 2008, this lacks that cheese appeal. Unless her Jacko dance-dread proves deeper upon each listen, I'm guessing this will sound best in an ultimate party megamix.
#38 (debut): Flo-Rida feat. Will.I.Am, "In The Ayer"
Maybe Flo-Rida could join the Black Eyed Peas. They'd be like a pop-rap Legion Of Doom.