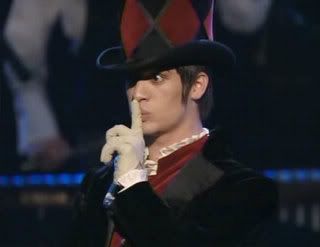 Hoo-de-hoo! It's 2006: The Year In Review!
(
screencap swiped from Rich - like I usually acknowledge these things
)
I originally planned to call this post The Robert Christgau Memorial Honorable Mentions, but the rumors of his consumer guide's death turned out to be
premature
(and I'm glad, believe you me!). Nonetheless, there's no reason he should be the only guy who gets to utilize the pithy one-liner to acknowledge the kind of relatively benign musical ephemera that made neither my
Twenty Albums From 2006 I'm Keeping In Their Entirety
nor my list of the
Twenty Albums From 2006 I Kept Eight Or More Songs From
(both coming later this month!).
I had a small selection of Duds to go with these Honorable Mentions (albums I kept five to seven tracks from) and Choice Cuts (albums which only offered one track I can recommend wholeheartedly), but, honestly, I'd prefer to focus on the stuff that's worth checking out rather than point out the recordings that completely failed me. Besides, I already wasted a whole post on
Boys And Girls In America
, and it's not like I gave
Kingdom Come
,
Stadium Arcadium
or
Dreamt For Light Years In The Belly Of A Fountain
much of my time, anyhow.
There are many albums I never got around to hearing (I was afraid of Joanna Newsom's
Ys.
BEFORE I knew Van Dyke Parks AND Jim O'Rourke were on it), even when a stray single rewarded my ear ("Stars Are Blind" and "Ain't No Other Man," for instance), so don't assume their exclusion from these spiels is a dis (or, rather, an
informed
dis).
Anthony Is Right's Honorable Mentions Of 2006 Inna Xgau Stylee (in order of preference)Junior Boys,
So This Is Goodbye
Why are people complaining about the lack of beats? I still hear them, the guy from Johnny Hates Jazz is just higher in the mix ("In The Morning," "So This Is Goodbye")

The Rapture, Pieces Of The People That We Love
Good thing they love dance hooks, cuz they suck at everything else ("First Gear," "The Sound")
The Evens, Get Evens
Determined to prove Ian and Amy stands up to Ian, Guy, Joe and Brendan - a goal they'd have already achieved with a bassist ("Cut From The Cloth," "Everybody Knows")
TV On The Radio, Return To Cookie Mountain
Improving on their Peter Gabriel-esque 4AD doo-wop (you heard me) with major label money and a real live drummer ("Province," "Wolf Like Me")
The Knife,

Silent Shout
Some hear "haunted house," I hear quirky new wave that's one "Tainted Love" away from breaking the Billboard top ten ("We Share Our Mother's Health," "One Hit")
Mudhoney, Under A Billion Suns
Juicing their reliable sardonic sludge with political frustration and horns ("Hard-On For War," "Where Is The Future?")
John Mayer, Continuum
The self-aware blues of a privileged pussy magnet – not for everyone ("I Don't Trust Myself With Loving You," "Belief")
Stereolab, Fab Four Suture
More life in these bah-bah-bah's than you'd expect from Marxist aesthetes in a decade-long holding pattern who finally got dropped from their label ("Interlock," "I Was A Sunny Rainphase")
Nelly Furtado, Loose
Better dance-pop than any other awkward, nasal Canadian chanteuse offers, and worse ballads ("Maneater," "Promiscuous (feat. Timbaland)")
Mountain Goats, Get Lonely
Smarter, more specific than
Sea Change
, still that sort of slog ("Half Dead," "Woke Up New")
The Killers, Sam's Town
What's the point of an E Street homage if it's not absurd and catchy? ("When You Were Young," "For Reasons Unknown")
Regina Spektor, Begin To Hope
Seems older, more Lilith Fair, than other oddball cabaret types - probably because she's less hip-hop and less indie ("Fidelity," "On The Radio")
New York Dolls,
One Day It Will Please Us To Remember Even This
The number one album of 2006, if David Johansen's
Sweet Revenge
made your top 20 of 1984 ("Plenty Of Music," "Maimed Happiness")
Bob Dylan, Modern Times
Viagra may keep you frisky, but it won't fight a grandpa's tendency to ramble ("When The Deal Goes Down," "Workingman's Blues #2")
Mogwai, Mr. Beast
Relatively varied indie soundtrack marginalia ("Acid Food," "Travel Is Dangerous")
Camera Obscura, Let's Get Out Of This Country
Threw her worthless ex out of the band and better for it - not that she's over him or even close to finishing her thesis ("Lloyd, I'm Ready To Be Heartbroken," "Dory Previn")
The Gossip, Standing In The Way Of Control
Took 'em three albums to hire a goddamn bass player, but it's a sign they may go pro yet ("Yr Mangled Heart," "Listen Up!")
Band Of Horses, Everything All The Time
Not as proggy or sloppy a high-pitched swoon as the Flaming Lips', not as memorable either ("Our Swords," "Weed Party")
Heartless Bastards, All This Time
Low meets Concrete Blonde – almost Scrawl, but not quite ("Brazen," "No Pointing Arrows")
Metal Hearts, Socialize
Cat Power-influenced harmonizers need their laptop percussionist and vica versa ("Disappeared," "Mountain Song")
Lindsey Buckingham, Under The Skin
Still producing albums more engaging than those by the indie singer-somnambulists who idolize him ("It Was You," "Cast Away Dreams")
Taking Back Sunday, Louder Now
00's emo-sogynists respond to major label upgrade with songs catchy enough to be mistaken for '90s alt-rock ("MakeDamnSure," "Twenty-Twenty Surgery")
Rainer Maria, Catastrophe Keeps Us Together
90's emo esoterics finally let the girl sing everything and sweetly sell out about six years too late ("Burn," "Clear And True")
+44, When Your Heart Stops Beating
With DeLonge taking the long way to Uranus in Angels & Airwaves, it's up to Hoppus and Barker to continue Blink-182's segue into musically engaging mall-emo ("When Your Heart Stops Beating," "Cliff Diving")
Belle & Sebastian, The Life Pursuit
No "Lola," but more fun than most of
The Money-go-round
("Another Sunny Day," "The Blues Are Still Blue")
American Princes, Less And Less
One of the few bands on Yep Roc that looks and sounds like they're in their twenties - hell, thirties - but aesthetically they fit right in ("The Simple Life," "Annie")
Yo La Tengo, I Am Not Afraid Of You And I Will Beat Your Ass
Their fifth straight double LP in just over a decade - not counting the multidisc comps, EPs and instrumentals - and over half the songs are twice as long as they need be, even when they clock in at three minutes ("Pass The Hatchet, I Think I'm Goodkind," "Black Flowers")
Destroyer, Destroyer's Rubies
Referencing classics, sounding like Robyn Hitchcock hopped up on goofballs ("Rubies," "Watercolours Into The Ocean")
Lansing-Dreiden, The Dividing Island
Wallowing in the gaudy sonics of New Pop's dying days for reasons I can't begin to fathom ("A Line You Can Cross," "Part Of The Promise")
Drive-By Truckers, A Blessing And A Curse
Drummer revved, songwriters tired ("Feb 14," "Space City")
Yeah Yeah Yeahs, Show Your Bones
Going from Stooges-Pretenders to Bettie Serveert is in no way an improvement, let alone pop ("Cheated Hearts," "Dudley")
The M's, Future Women
Little Steven's Garage types hiding their macho behind whimsical production ("Plan Of The Man," "Never Do This Again")
She Wants Revenge, She Wants Revenge
Ian Curtis as ridiculous goth pussyhound ("Sister," "Tear You Apart")
Twilight Singers, Powder Burns
Haggard, sexed-up melodrama's all Greg Dulli ever had to offer, really ("I'm Ready," "Forty Dollars")
Rose Melberg, Cast Away The Clouds
Married with child, somehow still writing sadface crush twee ("Take Some Time," "Four Walls")
Roots, Game Theory
If the MC was as great as he thinks he is, critics wouldn't go to the drummer for pull quotes ("Game Theory," "Here I Come")
Diddy, Press Play
Burying his futuresex/lovesounds under numbnut Kanye ("Special Feeling," "Last Night")
Choice Cuts:
Deftones, "Cherry Waves" (
Saturday Night Wrist
)
Gnarls Barkley, "Crazy" (
St. Elsewhere
)
Janet Jackson, "Take Care" (
20 Y.O.
)
LL Cool J, "Control Myself (feat. Jennifer Lopez)" (
Todd Smith
)
Ludacris, "Woozy (feat. R. Kelly)" (
Release Therapy
)
Method Man, "Fall Out" (
4:21…The Day After
)
My Chemical Romance, "Dead!" (
Welcome To The Black Parade
)
Omarion, "Just That Sexy" (
21
)
Pearl Jam, "World Wide Suicide" (
Pearl Jam
)
Sonic Youth, "Reena" (
Rather Ripped
)
Bubba Sparxxx, "As The Rim Spins" (
The Charm
)
Strokes, "You Only Live Once" (
First Impressions Of Earth
)
Trick Daddy, "Born A Thug" (
Back By Thug Demand
)
Neil Young, "Let's Impeach The President" (
Living With War
)