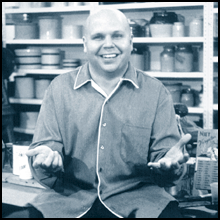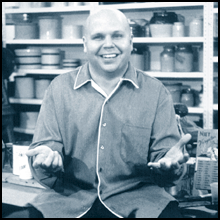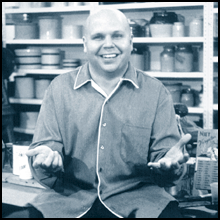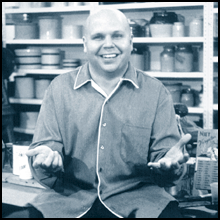 You'd scroll through fields of Pin to read my solipsistic take on alternative rock. Thank you.
The countdown is over! Mazel tov! In closing, I'd like to address some false assumptions people may have made based upon the top ten over at modernrock4eva.
Myth:
Jesus fucking christ, Anthony sure loves white rap!
Fact: There is only one white rapper in the top ten. While Evanesence sidekick Paul McCoy does sound like a constipated Nelly, he's no more rapping on "Bring Me To Life" than Nelly is on "Over & Over" (both are easily the oddest adult contemporary hits of the decade, by the way). Mike Shinoda, Rakim to Mr. Hahn's Eric B. in Linkin Park, is half-Japanese, while Sonny Sandoval, P.O.D.'s rapper/singer/yeller, is of Guamanian, Italian, Hawaiian, and Mexican descent (thank you, Wikipedia). Despite the connotations of his band's name, Doug Robb of Hoobastank does not rap and is half-Japanese. Robert Smith, Billie Joe Armstrong, the guy from Better From Ezra, Kurt Cobain and Bono also do not rap. The only white rapper in the top ten is
Shifty
. Send him a congratulatory message!
Myth:
Anthony likes that Hoobastank piece of shit more than "Black" by Pearl Jam! More than that beautiful ballad by Candlebox or "Interstate Love Song!" WTF?!
Fact: While the above statement is true, you couldn't deduce that from the countdown, as none of the songs mentioned were #1 hits on the Billboard Modern Rock chart. Here are 25 non-#1 charting hits that would have definitely crashed the top 10, possibly topping "High," depending on what I had for dinner and how long it had been since I'd last had sex.
Frank Black, "Headache"
Blur, "Song 2"
Breeders, "Cannonball"
Counting Crows, "Mr. Jones"
Cure, "Love Song"
Elastica, "Stutter"
Erasure, "A Little Respect"
Gin Blossoms, "Hey Jealousy"
Harvey Danger, "Flagpole Sitta"
Limp Bizkit, "Nookie"
Morrissey, "Last Of The Famous International Playboys"
Nine Inch Nails, "Closer"
Pavement, "Cut Your Hair"
Pearl Jam, "Jeremy"
Liz Phair, "Supernova"
Queens Of The Stone Age, "Go With The Flow"
Rage Against The Machine, "Bulls On Parade"
Rancid, "Time Bomb"
Smashing Pumpkins, "Tonight, Tonight"
Sonic Youth, "Kool Thing"
Sugar, "Your Favorite Thing"
Teenage Fanclub, "The Concept"
They Might Be Giants, "Birdhouse In Your Soul"
Vines, "Get Free"
Weezer, "Buddy Holly"
You might be wondering if any of 2006's #1s to date would have rated highly on the chart if they were eligible. Pearl Jam's incoherent but spirited "World Wide Suicide" would have fit in between "My Sister" and "Policy Of Truth" at #107.5, with Weezer's melodic but insipid "Perfect Situation" almost ten spots lower and the inescapable oatmeal that is "Dani California" resting down in the 170s, so the answer is no.
What Modern Rock hits would you say are more awesome than all the alt-ditties America pushed to #1? Which singles have I and this country robbed?