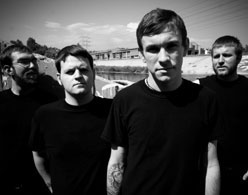 Along with Amy Rigby, another album from 2005 I've recently gotten into is
Against Me!
's
Searching For A Former Clarity
. Singer's way loud in the mix, bellowing maudlin non-rhymes ("You know Justin? Well, Justin's dead. And Yahoo won't let his family have access to his e-mail account!") like a hoarse Danzig over a sound that's equal parts punk and Pixies (the track called "Unprotected Sex With Multiple Partners" sounds like Franz Ferdinand!). The music gives the haggard vocal some populist weight and the voice gives the common, if well-crafted, music some personality. My
least
favorite song is the one that mocks Condoleeza Rice. They just signed to Sire, so hopefully they'll make Fuse a better place to flip past soon.